Apple iPhone X review
All screen meets Augmented Reality
Our Apple iPhone X review highlights a stunning design that includes an all screen front face. Add onto this Augmented Reality gaming and apps, and we have one of, if not the, most exciting review and smartphone of the year.
The Apple iPhone X has been officially announced and pre-orders start on the 27th October 2017. In the UK, Apple have teamed up with EE to offer the iPhone X exclusively for a period of time.
---
---
Build Quality
All screen
The Apple iPhone X has an extremely striking design. This is due to the front face being entirely screen, apart from a small area where the phone's cameras and sensors are placed. The screen precisely follows the contours and curves of the design, even at the rounded corners.
---
New: Razer Phone review
---
The large 5.8" Super Retina HD screen is by far the best screen to come out of Apple. The iPhone X shows 458 pixels per inch (2436 x 1125 pixels) and with OLED technology, there are more true blacks and a higher brightness.
True Tone technology is also on board, along with a six channel ambient light sensor. This subtly adjusts and matches the white balance to the colour temperature of the surrounding light, which in turn reduces eye strain.
---
---
One big difference in the screen department is that the Apple X has a HDR display. This can be used to watch Dolby Vision and HDR10 content, from Netflix and iTunes. The difference is highly noticeable, with richer colours and more defined contrast.
Durable design
The Apple iPhone X has a front and back made from the most durable glass that has ever been used in a smartphone. The glass achieves this through a 50% deeper strengthening layer.
The two pieces of toughened glass are fixed to a surgical-grade stainless steel frame, that is beautifully polished. The iPhone X achieves water and dust resistance (IP67), through microscopic level precision engineering.
The durable design does not come at the cost of weight or excess thickness. The Apple iPhone X weighs 174g and is 7.7mm thick. There are two colour options of Space Grey or Silver and the design incorporates stereo speakers.
Phone Set Up
---
---
Face ID
Touch ID is secure, at 1 possible error in 50,000, but Face ID takes secure to all new levels. The Face ID biometric facial recognition system, only has a risk of making a mistake at rate of 1 in 1,000,000.
Face ID works as soon as the iPhone X is lifted up and the owner looks at the phone. Face ID even works in the dark. The technology at work consists of an infrared camera, a 7MP TrueDepth camera and a Dot Projector.
How does Face ID work?
This is how Face ID works. The Dot Projector projects 30,000 invisible dots onto the holder's face and the infrared camera reads the dot pattern, checking that it matches the precise depth map of the owners face. The system cannot be fooled by photos, nor can it be fooled by realistic masks.
Face ID is only made possible because of the power of the A11 Bionic chip. This chip employs machine learning so that it can recognise the owners face, even if there are changes in the owner's appearance. This makes it possible for Face ID to recognise its owner, even if they grow a beard, wear a hat or put on glasses.
A double click the side button is all that is needed to authorise secure purchases through Apple Pay, with Face ID.
Transferring content onto the iPhone X
It is easy to transfer content onto the iPhone X, which is supplied with a choice of internal memories. The cheaper iPhone X has a 64GB internal memory, while the more expensive iPhone X has a 256GB internal memory.
Features
No home button
With an all screen front, there is no home button, which means that Apple fans will interact with the iPhone X is new and different ways. Screen gestures are the way forward and they are listed below:
Swipe up - Go to the home screen
Swipe to the side - Scroll through open apps
Swipe up and pause - See a carousal of open apps
Swipe down - Open the customisable Control Centre
Press and hold side button - Ask Siri questions
Augmented Reality
The Augmented Reality experience is driven by the new and powerful A11 Bionic six-core chip. This chip is the smartest and most powerful chip ever in a smartphone and the neural engine can make 600 billion operations per second.
The A11 Bionic chip is designed for machine learning and artificial intelligence. It employs these powers in order to recognises people, objects and places. The chip has four efficiency cores that are up to 70% faster than those in the A10 Fusion chip and two performance cores that are up to 25% faster.
There is also an Apple designed three-core GPU chip, that is up to 30% faster the those in the A10 Fusion chip. Together, these handle the Augmented Reality games and apps, which let you do very cool things, like redecorating your home digitally or for trying on a new tattoo in AR.
Animoji
The Apple iPhone X introduces the Animoji to the world. This animated emoji, of which there are 12 Animoji characters, moves and talks as you do.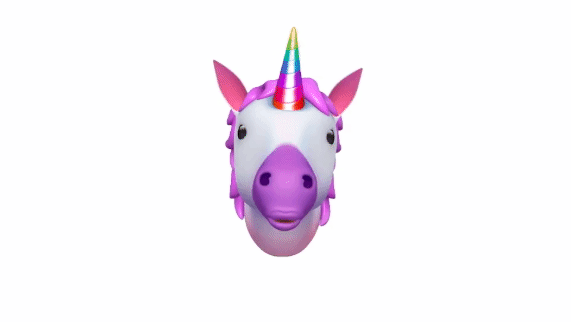 The TrueDepth camera monitors 50 muscles of the face to do this and Animoji can be used from within Messages. You can also create videos and include your voice with Animoji.
iOS 11
The Apple iPhone X runs on iOS 11, which as expected, is faster and more efficient than iOS 10. With iOS 11, you can pay friends through Messages, have Siri make translations and use popular apps like QuickType, Maps and News.
Camera & Video
TrueDepth camera
The 7MP TrueDepth camera has various shooting modes, including Portrait Mode Selfies, where you can blur the background. The iPhone X also has the Portrait Lighting Beta software pre-loaded and this offers studio quality lighting effects.
Portrait Lighting uses complex algorithms to work out how your facial features would look, when they interact with light. The Portrait Lighting effects are as follows:

Natural Light - Here your face is shown in sharp focus with a blurred background
Contour Light - Highlights and low lights are shown off with dramatic shadows
Studio Light - Your face is brilliantly lit with a clean look
Stage Light - A deep black background offsets a spotlit face
Stage Light Mono - Stage lighting in black and white
The TrueDepth camera can additionally be used for making FaceTime video calls and the Clips app lets you make share worthy videos, with graphics, text and other effects.
Dual 12MP cameras
The dual 12MP cameras have faster and larger sensor for capturing more light. There is a telephoto (f/2.4) lens with OIS (Optical Image Stabilisation), along with a wide angle (f/1.8) lens, again with OIS. The dual OIS makes it easy to capture great photos and videos in low light.
Having two lenses gives iPhone X users a true optical zoom, backed up by a 6x digital zoom for videos and a 10x digital zoom for photos.
Higher quality photos would normally come at a cost to memory. However, the iPhone X has HEIF compression technology, where a high quality photo has only half the file size. Similar, HEVC compression technology does the same for video.
The Quad-LED True Tone Flash now has Slow Sync. This feature slows the shutter speed and gives a short strobe pulse, for a brighter background in low light. Further shooting modes and features includes Time-lapse, Panorama, Auto HDR, Burst Mode, Playback video zoom and Live Photos with video loops.
4K video can be recorded at 60 frames per second, while Slo-mo recording has 240 frames per second, at 1080p quality.
Battery Life
Longer battery life
The custom battery design on the iPhone X has a second-generation performance controller. This gives the iPhone X two hours longer all-day battery time, compared to the iPhone 7.
The iPhone X supports wireless charging and works with existing Qi wireless chargers. More exciting though, is that in 2018, Apple will release the AirPower mat. This will charge all wireless charging devices together on one mat, including AirPods and the Apple Watch.
Next: Sony Xperia XZ1 Compact review
Written by: Michael Brown