We've all heard of the rumours of Samsung is jumping on the smart-watch bandwagon in an attempt to keep up with the growing wearable smartphone trend this year.
Samsung's executive vice president for its mobiles, Lee Young Hee, has said that the Samsung watch has been in the pipeline for some time. In an interview in Seoul, she stated: "We are preparing products for the future, and the watch is definitely one of them."
Leaked screenshots give clues about Galaxy Gear
Notorious leakster, @evleaks has released a series of screenshots which give clues about the Samsung Galaxy Gear smartwatch, due to be revealed in Berlin this week.
​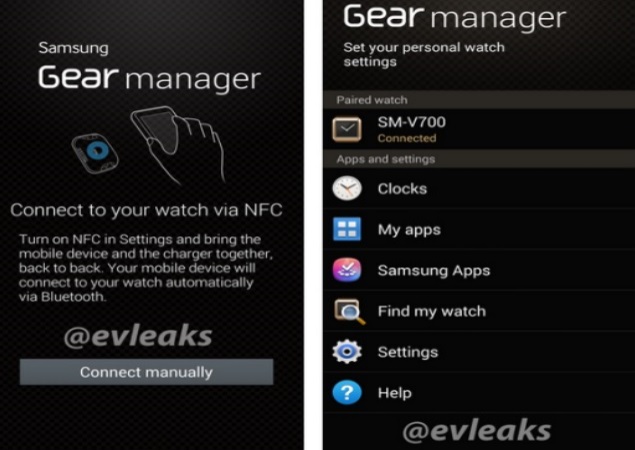 The screenshots show that the device will have the ability to connect to a smartphone using NFC, and will also be compatible with wireless charging.
@evleaks has also confirmed that the smartwatch will feature a series of Samsung-own apps, though it is not clear as yet which specific apps the device will offer.
The good news is that we don't have to wait long to find out; the Galaxy Gear will be revealed at a press event during IFA in Berlin this Wednesday (4th September). Mobilephones.com will be reporting live from Berlin, so follow us on Twitter and Facebook for all the latest as it happens!
Samsung Galaxy Gear Specs Leaked
Until now we have confirmed that a Samsung smartwatch is on its way, due for an IFA reveal on September 4th, but finally some realistic-looking specs have surfaced.
The device is said to feature a 2.5-inch touchscreen, a dual-core 1.5GHz processor, a 4 megapixel camera and even speakers in thed evice's strap.
One disappointing feature of the Samsung Galaxy Gear, however, is its measly 10 hour battery life, which is disappointing for a smartphone, let alone a watch!
What do you think about these specs? Would it encourage you to buy a smartwatch? Get in touch via Facebook, Google+ or Twitter. Alternatively, to post a comment.
Samsung Galaxy Gear Tipped for September 4th reveal
In fact, in an exclusive interview given to The Korea Times, Lee Young Hee revealed that a device, called the Samsung Galaxy Gear, will make an appearance at this year's IFA in Berlin.
The device's specifications are yet to be announced, but at last we have received confirmation that a Samsung smartwatch is on its way- sooner than we thought.
Some critics have suggested that the Samsung Galaxy Gear won't actually be unveiled at IFA, but instead will just be on display. Either way, the 4th September is tipped to be a very special night in Germany's capital.
Patent watch reveals smartwatch features
A series of patent filings discovered recently show Samsung's plans for its first smartwatch. The main feature that stands out from the patents is the watch's flexible screen which bends round the wrist, much like we have seen at Samsung previews in the past few months.
​
Potential names that have cropped off as a result of the findings include Samsung Gear, which was patented in South Korea, and Samsung Galaxy Gear, filed in the US.
According to the designs, key functions of Samsung's smartwatch will include the ability to take and receive phone calls, send text messages and emails, as well as browse the internet.
Patents filed in South Korea also suggest that the screen will be removable with different straps being attached to suit the individual user.
Release date
But how likely is it that Samsung will actually release its smart-watch this year, when the Korean company is already scheduled to launch three new devices, including the Samsung Galaxy S4, and another device using the Tizen operating system?
Competitors
Other leaked reports suggest that Apple has a smartwatch, which will function like an iPhone or an iPad, in the running. News of Apple's watch-like device also speculates that the device will be released towards the end of 2013.
With BlackBerry's CEO claiming that Apple is making itself vulnerable by not embracing future technology, if the iWatch does indeed make its way onto the market this year, Heins might be eating his own words…
Read more about the growing trend of wearable technology in our article about smart-watches previewed at this year's MWC.
Written by Charlotte Kertrestel