The latest news from Google it that it has just made it far easier to get to where you want to go, with its latest Google Maps update. The new update sees Google Calendar events shown in Google Maps, for quickly beginning navigation to meetings and appointments.
---
Update: Google updates Newsstand app to v4
---
Android smartphone owners will need to update the Google Maps app to get access to the new features. To do this, simply open Google Play, tap on the side menu, tap on 'My apps & games' and then tap the 'Update' button next to Google Maps.
How Calendar events work in Google Maps
In order for Calendar events to work in Google Maps, you need to create a Google Calendar event and search / enter the address in the 'Where' box. You must also be signed in to both Google Maps and Google Calendar.
Breaking news: Google announces the Google Pixel
Once you have done this, you can see upcoming Calendar events on the map or see them in the new 'Upcoming' tab. The 'Upcoming' tab can be found in the side menu by tapping 'Your Places' followed by 'Upcoming'.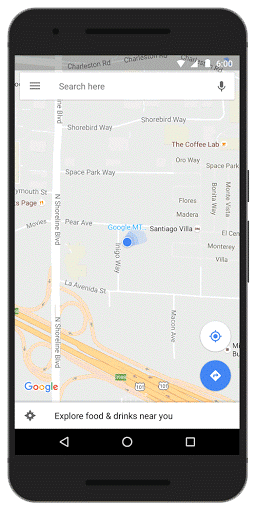 If you want to use this new feature on your Android phone, but wish to hide certain events, then this can be done by tapping the event on the map and then tapping 'Dismiss'.
New Google Maps voice commands
New Google Maps voice commands are also included in this update. To make use of these you will need the latest versions of the Google Maps app and the Google app for Android.
The new voice commands can be used in Driving mode, so you will first need to open this from the side menu in Google Maps. You can also enter Driving mode much more quickly by pinning the Google Maps Driving widget to the home screen.
The beauty of Driving mode is that by saying 'OK Google', followed by a voice command, you can use Google Maps without touching or looking at the mobile phone's screen. This will ensure that you don't fall foul to the new penalties for using a hand-held phone while driving.
Saying 'OK Google' activates the phone's microphone and a circle with bouncing dots appears to indicate that your voice commands are being heard. The new Google Maps voice commands includes:
'OK Google find petrol stations'
'Show / Hide traffic'
'Mute / Unmute voice guidance'
'Avoid tolls / motorways / ferries'
'How's traffic ahead'
'Show alternative routes'
'Send a text'
'Call dad'
'When's my next meeting'
'What road is this?'
'What's the closest hotel'
'Play some pop music'
These new voice commands are in addition to standard voice commands such as 'What's my next turn?' and 'Whats my ETA?'
Google Maps features
Next, we take a look at the existing features of Google Maps, along with some Google Maps tips & tricks.
Labels are one of the most useful features in Google Maps, and once added they enable navigation to begin with an 'OK Google navigate to…' voice command. To add a label in Google Maps, simply search for the address, tap on the address marker and then tap on 'Label'. You can then give the address any label of your choosing, such as 'mum', 'home' or 'work'.
Confirmation emails that are received through Gmail also appear on Google Maps. These could be flight, hotel and restaurant reservations. In addition to appearing on Google Maps, these can also be found in the new 'Upcoming' tab.
Google contacts can appear on Google Maps too. Simply type their name into the search box and the contact will appear, as long as you have saved an address for the contact in their contact info.
To manage how personal content appears on Google Maps, head to the Personal content tab found in the settings section of the side menu.
Next news story: Google launches Allo chat app

Written by: Michael Brown