Google's Gboard gets released for Android six months after Google released the keyboard app for the Apple iPhone, back in May 2016. That move was a tactical one as it meant that Apple iPhone users would be encouraged to use Google Search, which works from within the keyboard app itself.
Gboard for Android will placate those Android owners who felt negated earlier this year and here you can find out all about Gboard for Android.
Gboard for Android
The Gboard keyboard can be used in any app, including messaging apps, email apps and social networking apps like Facebook, Twitter and YouTube.
The revelation is that you can use Google Search from within the keyboard pop-up itself, by tapping the colourful G symbol. It also makes it effortless to share or send information from the forthcoming Google Search results.
This means that you do not need to swap to another app to first make a search, then copy and paste the results and then press send, in order to share the information.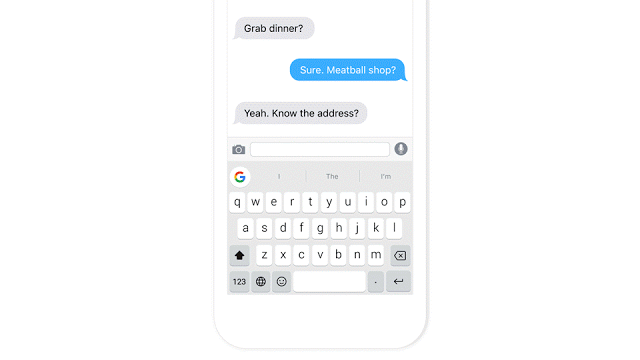 For example, you could be chatting to a friend through the Skype app and then tap the G symbol to search for places to eat. You can then instantly share the results of your choosing with that friend. You could also search for flight information, news, hotel rooms or anything else that you could search for on Google.
The Google Search results appear as cards and the important info, such as opening hours, phone numbers and review ratings, all appear prominently on the card.
Google's Gboard keyboard can additionally be used to search for GIF images and emoji using keywords, as opposed to scrolling through endless lists. Glide Typing, where you slide your finger from letter to letter, is also offered, saving you even more valuable time.
Personalising Gboard
Google's keyboard is highly flexible so that you can tune it to work better for you. The first option is to choose whether or not you want the number row shown permanently or whether you want to access the numerical keys by tapping a keyboard shortcut.
The keyboard height can be adjusted to suit larger or smaller fingers and if one-handed mode is selected then you can choose to align the keyboard to the left or right. Auto-correction and auto-capitalisation are set to on as a default and it is even possible to download multiple languages and switch between them as needed.
The Gboard can be coloured through a number of pre-loaded themes or, if you choose, you can use one of your own photos as a keyboard background.
Next news story: Cortana released for iOS and Android

Written by: Michael Brown