Top Christmas Stocking Fillers
These wonderful stocking fillers for Christmas are a fun and practical way to make the most out of your mobile phone.
Whether they are used to make the device more personalised to the user or to enhance the features offered by the handset, these stocking fillers are both useful and entertaining.
We've put together a list of top stocking filler ideas for the mobile phone lover in your life.
Mobile Phone Covers
Mobile phone covers and cases are really popular accessory for mobile phones. They protect the handset as well as providing opportunity to add that personal touch.
The majority of phone cases and covers on the high street are for iPhone, but there are also plenty of great cases for BlackBerrys, Samsungs and HTCs.
Speakers
Speakers are a fantastic mobile phone stocking filler for Christmas. As mobile phones are now the most popular way to listen to music on the go, speakers are a great way to enjoy your music with people around you.
There are so many speakers on the market, the most high tech priced in the thousands. But for a stocking filler there are also some great smaller speakers available at a more reasonable price.
Portable speakers are available and can be plugged in to a mobile device with a 3.5mm jack so music can be played anywhere.
Portable Charger
A common complaint about mobile phones is that the battery life is too short. When on a long journey with no access to a plug socket or when completely out in the wilderness on a camping trip, you don't have to worry about your phone being out of battery and rendering you un-contactable if you have a portable battery.
Portable chargers are recharged at the mains, and most will then hold enough charge to fully recharge your phone on the go. They can be very small so easily transported, and are compatible with most phones.
Touch Screen Gloves
The major downfall of touch screen phones is using them in the cold weather. When your hands are toasty and warm inside your gloves, the last thing you want to do it take your gloves off and expose your extremities to the elements to use your phone.
The fingertips of these gloves contain a conductive material that work with any touch screen, so you can stay cosy while using your phone. A pair of touch screen gloves is ideal for the winter months to keep hands warm outside and it is a brilliant idea for a stocking filler at Christmas time.
Ear Muff Headphones
Another cold-weather saviour, ear muff headphones are a fanctastic way to keep warm while listening to music on the cold walk to work. They come in a variety of colours and work with any device that has a 3.5mm jack. Some ear muff headphones can even be used for phone calls if they include an inbuilt microphone.
Tripod
Many people are doing away with cameras and just using their mobile phone for taking photos. So for phoneographers a mobile phone tripod that allows you to really make the use of the ever improving mobile phone cameras, is a great stocking filler.
A tripod will keep the phone steady when taking a video, will save tired arms for having to hold the phone up for a video chat, and it can be used to position the phone for when you want to use a self-timer to take a photo of yourself without having to adopt the obvious 'selfie' pose.
Hands Free Kit
A hands free kit is important for concentrating on the road, when using a navigation system or when making hands free phone calls. Hands free kits contain a holder for the mobile phone that attaches to the car's dashboard or windscreen so you can see the display while still concentrating on the road – great for when using satnav apps.
They also include a lead which allows the phone to be charged via the cigarette lighter. Alternatively, a Bluetooth headset would also be a great stocking filler as it will connect to the mobile phone wirelessly so calls can be made while driving.
This would be a great stocking filler for people who do a lot of long journeys.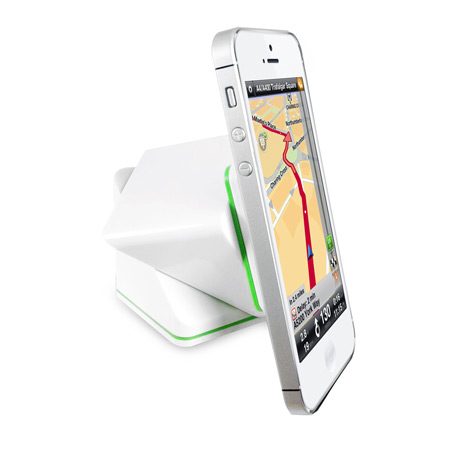 Also check out our Christmas Mobile Phone Brochure to compare the best deals on mobile phones this Christmas.
Let us know
Post a comment below or find us on Twitter, Facebook or Google+
Written by Isabelle Barker