Best apps for visiting the Ashes at Lord's
Whether you're a seasoned Londoner or a first-time Lord's attendee, getting to and from our nation's capital can sometimes be a bit of a nightmare.
So here are just a few of the best apps for getting you to and from Lord's, as well as ensuring that you make the most of your time in London for the duration of the second test match.
Follow Lord's Ground on Twitter
@HomeOfCricket
OK, so it may not officially count as an app, but one of the best ways to keep up-to-date with all goings on at Lord's is to follow the cricket club on Twitter...
With daily updates and links to Ashes-related articles, the official Lord's website will keep you informed with all of the Ashes goings-on, including detailed instructions of how to get there and the best things to do.
​
The mobile-enabled site also makes it really easy to use on the move!
Tube Map
Next, there's no app that could come in as handy during your stay in the capital as the Tube Map app. While there are various apps available in the Apple and Google app stores, the simply named Tube Map app is perfect for planning your routes in and about London.
The app displays a live departure board and station information to inform you of the most regular routes to take, and makes use of your phone's in-built GPS to find your nearest tube station.
You can also plan a specific journey from your hotel to, say, St John's Wood tube station (just 5 minutes' walk away from Lord's!) in order to get the quickest and most convenient route mapped out for you.
London Bus checker
Another app perfect for getting you to and from Lord's is the London Bus Checker. As the name suggests, the app allows you to check exactly where and when your bus will arrive, using the buses' GPS systems.
Not only can you view full route maps to find out where you're actually going, but the app alerts you when your bus is delayed or cancelled, allowing you to make alternative plans before it's too late.
If you find yourself stranded and wanting to get home, simply fire up the app and use your GPS to locate the nearest bus stop which will take you to where you need to be!
What's more, the London Bus Checker is absolutely free and compatible for all iPhones, Androids and Windows Phone devices.
Hailo
If you're staying close to Lord's and don't fancy bussing it to the grounds, why not download the Hailo taxi app for Android and iPhones? Avoid competing with the hundreds of other Ashes fans trying to escape Lord's at the same moment by hailing a cab with two clicks from the palm of your hand.
Again, your phone's GPS will gauge your exact location, allowing you to send a message to the nearest black cab to come and pick you up. The app even lets you pay for the fare using your card, just in case you've spent your last pennies on getting the beers in!
The Official London City Guide app
When it comes to watching the Ashes at Lord's, there's only one app that you need when you want to experience London's cultural and entertainment scene. The Official London City Guide app is your first port of call when it comes to finding things to see and do when you're visiting the capital.
Whether you've visited London tens of times, or perhaps just the once, the London City Guide app can be the best companion when looking for somewhere to see, eat or drink. If you're looking for something to do on a budget, the app also lists daily activities that are free of charge, from markets to exhibitions.
Street art, London
On the other hand, if you're looking for something a bit more alternative to do, or if the other half wants a well-deserved break from the cricketing action, why not take a look at the Street Art London app? As you might have imagined, the app takes you on a tour of the city, pointing out various pieces of street art, from the likes of Banksy to lesser known local artists.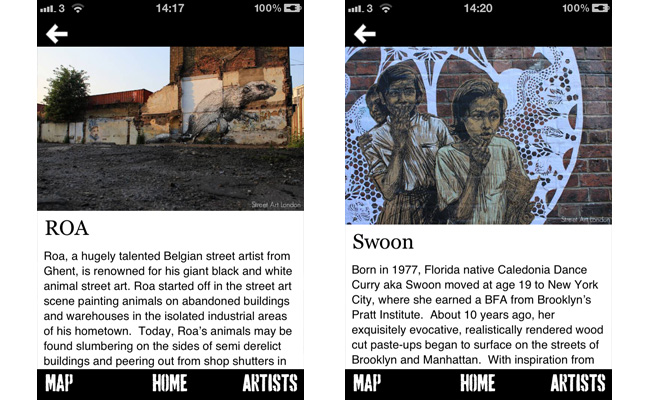 If you find a particular artist that you like, simply filter the results and take a guided tour of the artist's London canvasses.
The app is a bit of fun and offers an alternative to the over-subscribed tourist hangouts that we all know London for. The only downside- it's for iOS devices only!
Follow us!
To get a guide to all of this year's Ashes venues, why not follow@Mobilephonescom on Twitter, Facebook or Google+?